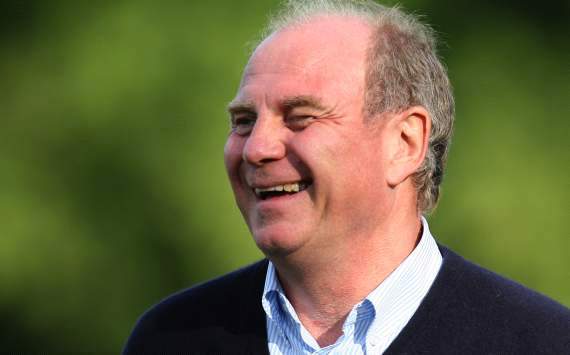 As he looks forward to a Champions League semifinal run-in with the Spanish giants, the president feels his side is on equal footing
Bayern Munich president Uli Hoeness has praised Real Madrid for their quality, but opined that his side are equal with the Spanish heavyweights.
Ahead of the clash with Madrid in the semifinals of the Champions League, Hoeness is excited to see his team give its all in the two-legged tie. And he feels that his side have the quality to come out on top.
"I have a lot of respect for Real Madrid. They are a great club, but we are as well," he told Goal.com. "First of all I must say that it is always a highlight of a player's career if they can play against Real Madrid. In this respect, we can all look forward to two great games. We are in good shape, but so are Real. This is a comparison on equal footing."
The Bavarians secured their passage to the last four on Tuesday following a 4-0 aggregate victory over Marseille, and Hoeness admitted that he was happy.
"We can be very satisfied," he told Spox in response to the win. "The team played very homogeneously and put in a lot of effort. It's fun to watch. We're playing as well as we did in the autumn."
Hoeness went on call upon his players to take Saturday's clash against the relegation candidates Augsburg even more seriously than the following match against title rivals Borussia Dortmund.
"I'm more concerned with Augsburg than Dortmund, because I hope that our players, the fans, and above all the journalists, take this game seriously."
Ahead of the weekend's Bundesliga action, just three points separate Bayern and Dortmund, who currently sits at the top of the table.