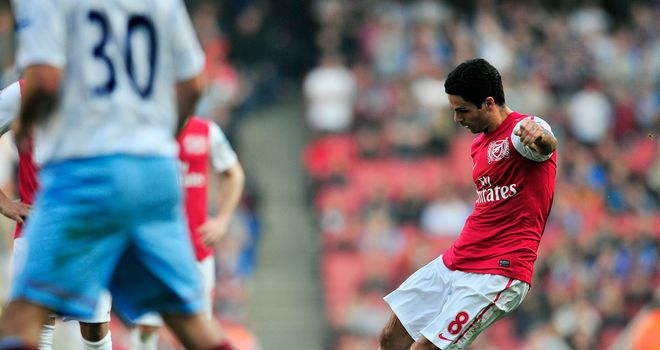 Midfielder expecting 'big fight' for positions
Mikel Arteta believes Arsenal's victory against Manchester City at the Emirates Stadium was the club's most important win of the season.
The Spanish midfielder stuck a dagger into the heart of City's Premier League title hopes with a stunning 25 yard strike three minutes from time to secure all three points.
Arteta's spectacular winner sends Arsene Wenger's men two points clear of Tottenham in third place with just six games of the season remaining.
"Well, (the result) was so important," the former Rangers and Everton man told Sky Sports 1.
"Chelsea won yesterday (against Wigan) while Newcastle have been very consistent over the last few games as well and Tottenham are still there, so it's going to be a big fight from now until the end of the season.
"But we knew that today was going to be one of the most difficult games we have until the end of the season.
"There was a lot to play for both teams today. It's going to be really tough for them (City) because of Manchester United winning and for us because if we lose today we would be two points behind them (Tottenham) and there's six games to go."
With regards the game, the 30-year-old said: "It's always difficult when you play a team like Manchester City. When you get ten chances, you have to take three or four of them because they've got the quality up front to create trouble for you, but we did it at the end.
"As soon as I saw the space and I saw the centre-back coming towards me, I just said I have to strike it and it went into the back of the net."